Address Unknown: A Novel (Paperback)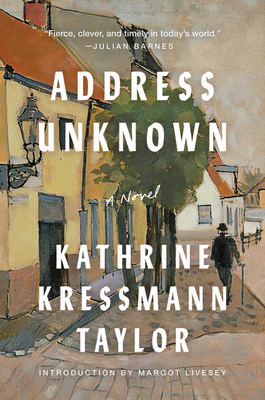 Description
---
A rediscovered classic and international bestseller that recounts the gripping tale of a friendship destroyed at the hands of Nazi Germany 
In this searing novel, Kathrine Kressmann Taylor brings vividly to life the insidious spread of Nazism through a series of letters between Max, a Jewish art dealer in San Francisco, and Martin, his friend and former business partner who has returned to Germany in 1932, just as Hitler is coming to power.
Originally published in Story magazine in 1938, Address Unknown became an international sensation. Credited with exposing the dangers of Nazism to American readers early on, it is also a scathing indictment of fascist movements around the world and a harrowing exposé of the power of the pen as a weapon.
A powerful and eloquent tale about the consequences of a friendship—and society—poisoned by extremism, Address Unknown remains hauntingly and painfully relevant today. 
About the Author
---
Kathrinek Ressmannt Taylor was an American author best remembered for Address Unknown, originally published in Story magazine in 1938. She was also the author of Day of No Return, and a professor of creative writing and journalism at Gettysburg College in Pennsylvania for nineteen years. Kressmann Taylor died in Minnesota in 1996.
Margot Livesey is the New York Times bestselling author of the novels The Flight of Gemma Hardy, The House on Fortune Street, Banishing Verona, Eva Moves the Furniture, The Missing World, Criminals, and Homework. Her work has appeared in the New Yorker, Vogue, and the Atlantic, and she is the recipient of grants from both the National Endowment for the Arts and the Guggenheim Foundation. The House on Fortune Street won the 2009 L. L. Winship/PEN New England Award. Born in Scotland, Livesey currently lives in the Boston area and is a professor of fiction at the Iowa Writers' Workshop.
Praise For…
---
"Simple, warm, human and tremendously touching. It will take hold of both head and heart."  — Los Angeles Times
"What must be emphasized here is that this is no merely sound journalistic piece. It is a great story regardless of time or place or immediate circumstances. It is a great story because it contains all the elements of storytelling that have gone to make great stories from time immemorial."  — Fred T. Marsh, New York Herald Tribune
"A tremendously powerful piece of work, with a wallop at the end of the kind that Poe, Maupassant, Ibanez, Bierce and O. Henry made famous in their time."  — Joseph Henry Jackson, San Francisco Chronicle
"A short story with a long, dark echo; fierce, clever, and timely in today's world."  — Julian Barnes 
"This modern story is perfection itself. It is the most effective indictment of Nazism to appear in fiction."  — New York Review of Books
"A tale already known and profoundly appreciated by members of my generation. It is to our part in World War II what Uncle Tom's Cabin was to the Civil War."  — Kurt Vonnegut
"That this short, fleeting story has lasted so long is not only because of its artistic achievement, and not only because, written in 1938, it astonishingly anticipated the horror that was yet to come. It is because its prescience is not confined to its time. It saw into our own future too."  — Jonathan Freedland
"Captivating, beautiful and unimaginably powerful, a book for our times."  — Philippe Sands
"Address Unknown serves not only as a reminder of Nazi horrors but as a cautionary tale in light of current racial, ethnic, and nationalistic intolerance."  — Publishers Weekly
"Address Unknown will leave you breathless with admiration."  — Star Tribune (Minneapolis) 
"Remarkably, despite the multitude of testimony and first-person accounts of life under Nazism with which we've been deluged since its first publication, this old, slim fiction manages to smuggle us across time and space into one eloquent tale of perfidy."  — The Guardian
"This stunning classic brilliantly defines what happens when people are swept up in a poisonous ideology."  — Daily Mail (London)
"[An] astounding work. . . . One aspect of a story's greatness is its ability to speak to readers of different ages. So it is with Address Unknown. . . . I'm hopeful . . . it will reclaim its place on [the] American bookshelf." — American Scholar
Give Books for the Holidays 2023