Lolth's Warrior: A Novel (The Way of the Drow #3) (Hardcover)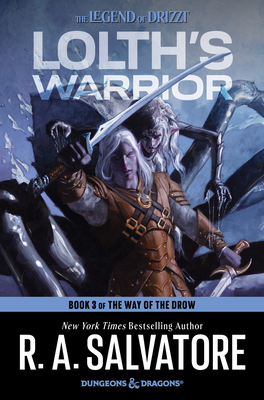 Description
---
The epic conclusion to New York Times bestselling author R. A. Salvatore's electrifying trilogy, The Way of the Drow, finds Drizzt Do'Urden coming to understand his role as a friend, a father, and a man caught between the darkness and the light.
The drow city of Menzoberranzan has fallen into discontent, sowed by the growing legend of the one who escaped: Drizzt Do'Urden. Now many of the drow—including the city's most powerful house, led by the Matron Mother—are questioning the influence of the Spider Queen and the very history of the city's founding.
What secrets lie ahead? The drow are determined to find out, and they'll stop at nothing to dismantle the very structure they've called home.
As social tensions rise and the demands for answers boom, a fight erupts between the adherents of Lolth's chaotic evil and those drow who demand more, demand better. In the Underdark there are only absolutes and no compromise will be found. With winner taking all, Drizzt Do'Urden cannot and will not remain on the sidelines anymore. This will be an uprising Menzoberranzan will never forget, and the rest of the Forgotten Realms won't be able to look away. 
About the Author
---
Thirty-four years ago, R. A. Salvatore created the character of Drizzt Do'Urden, the dark elf who has withstood the test of time to stand today as an icon in the fantasy genre. With his work in the Forgotten Realms, the Crimson Shadow, the DemonWars Saga, and other series, Salvatore has sold more than thirty million books worldwide and has appeared on the New York Times bestseller list more than two dozen times. He considers writing to be his personal journey, but still, he's quite pleased that so many are walking the road beside him! R.A. lives in Massachusetts with his wife, Diane, and their two dogs, Dexter and Pikel. He still plays softball for his team, Clan Battlehammer, and enjoys his weekly DemonWars: Reformation RPG and Dungeons & Dragons 5e games. Salvatore can be found at RASalvaStore.com
Praise For…
---
"Salvatore, through Drizzt Do'Urden's musings, masterfully explores the nature versus nurture argument in comparing the two drow societies and the sacrifices the different sides are willing to make in the epic conclusion to the Way of the Drow trilogy."  — Booklist
"Underlying this epic fantasy are insightful explorations of evil and happiness, filled with characters who have constantly defied society's expectations to stay true to themselves and their chosen family." — Booklist on Glacier's Edge
"Longtime fans of Drizzt Do'Urden will surely enjoy the novel's breakneck pacing, nonstop action, cast of familiar and beloved characters, and deep philosophical exploration throughout. This storyline, in particular, packs a thematic wallop that is both timely and timeless...readers should embrace Salvatore's newest adventure with Drizzt and company." — Kirkus Reviews (starred review) on Starlight Enclave
"Salvatore manages to wrangle the extensive backstory to make this an accessible entry point for first-timers, and the superior characterizations that marked Salvatore's prior books are again in evidence. His many devoted fans have reason to anticipate the sequel." — Publishers Weekly on Starlight Enclave
"The exhilarating conclusion to Salvatore's Generations trilogy (after Boundless) illustrates the power of family, both born and chosen … Amid epic sword and sorcery clashes, Salvatore makes a powerful case for love and compassion conquering even the strongest of evils. Fans will be sad to see this fantastic series end."  — Publishers Weekly (starred review) on Relentless
"The newest evolution of a narrative that's grown and developed for nearly three decades...a payoff for all that preceded it."   — NerdsonEarth.com on Relentless