Tide, Feather, Snow: A Life in Alaska (Paperback)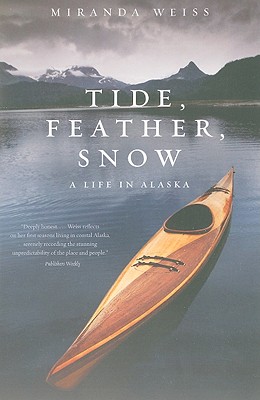 $16.99
Email or call for price
Description
---
"Tide, Feather, Snow is about the resplendence and subtleties of coastal Alaska, and about one woman's attempt to be fully present in them. Weiss serves as a skilled and poetic witness to a place undergoing incessant change." — Anthony Doerr, author of The Shell Collector

A memoir of moving to Alaska—and staying—by a writer whose gift for writing about place and natural beauty is reminiscent of John McPhee and Jonathan Raban.
An extreme landscape in both its beauty and challenges, Alaska is a place where know-how is currency and a novice's mistakes can be fatal. But it is a place for glorious reinvention—a refuge for those desperate to escape . . . and for those looking for something more.
Miranda Weiss, a young woman who grew up landlocked in a well-kept East Coast suburb, moved to Homer, Alaska, with her boyfriend, determined to make a place for herself in this unfamiliar country where the years are marked by seasons of fish, and where locals carry around the knowledge of tides, boats, and weather as ballast. In Tide, Feather, Snow, Weiss introduces readers to the memorable people and peculiar beauty of Alaska's vast landscape, as she takes us along on her remarkable personal journey of adventure, physical challenge, and culture clash.
About the Author
---
Miranda Weiss received her MFA from Columbia University. Raised in Maryland, she now lives in Homer, Alaska.
Praise For…
---
"Humbly sends its roots down into the soil of the Kenai Peninsula. . . . [Weiss] deftly spins her quiet narratives out of the smallest details and anecdotes, and spices them with the richness of texture seldom seen in non-fiction." — Krestia DeGeorge, Anchorage Press
"Deeply honest . . . Weiss reflects on her first seasons living in coastal Alaska, serenely recording the stunning unpredictability of the place and people." — Publishers Weekly
"Exceptional . . . an intimate look into the lives of Alaskans living in small coastal communities. Unlike most "life in" memoirs, which leave the reader viewing from the outside, Weiss takes us there with her delightful prose style, giving us the feel of the people, the place, and the kind of life that draws nourishment from the land and sea. . . . Alaska is a captivating land, and this book does justice to it." — Library Journal
"Miranda Weiss's Tide, Feather, Snow is beautifully poetic, her observations are expansive, and the pace and rhythm in which she writes are perfect. Miranda is reflective about the life she makes in Homer, Alaska, and her connection to the people and environment. The story is beautiful —like slow cooking, the fullness of flavor comes out in slow simmering. For anyone who is drawn to Alaska, beauty, water, or the poetic, this is a book they will love." — Lynne Cox, author of Grayson and Swimming to Antarctica
"Tide, Feather, Snow is a lovely, feathery book indeed—a labor of love and a pleasure to read." — Edward Hoagland, author of Notes from the Century Before
"Tide, Feather, Snow is about the resplendence and subtleties of coastal Alaska, and about one woman's attempt to be fully present in them. Weiss serves as a skilled and poetic witness to a place undergoing incessant change." — Anthony Doerr, author of The Shell Collector
"Weiss is fearless. . . . Over the course of her story . . . she faces herself, and what she finds is both transcendent and troubling. . . . Each phrase [is] as surprising as the tide pool or moose track it describes. You'll want to don your rubber boots, your chest waders, your spray skit. You'll want to savor each word, the way she does." — Eva Saulitis, Orion magazine